Hamas is using lies, terror and brutality, as usual, to try to terrorize the Israeli population and the world into giving them what they want – which is of course, a cease fire and more money. The ability to continue to kill more Jews for as long as possible. The full and brutal uncensored Hamas propaganda video can be found in this article.
Noa Marciano, 19, in Morbid Hamas Video
Everyone knows that the Palestinian terrorists killed her. They probably raped her too. They killed her and then shared the video claiming that she had died from IDF bombings. What is certain as that when they abducted her she was still alive, but now, she is dead. Anyone who believes the claims of the rapist murderous Hamas terrorists, saying that she died from IDF bombings, is a fool.
Also read: Believe Israeli Women – Israeli Women Were Brutally Raped, Murdered and Kidnapped by Palestinian Men
How and Why Was This Video Made by the Terrorists
She was most definitely forcefully made to rehearse what the terrorists wanted her to say, for long hours, and told exactly how to say it, so this 50 seconds video is hours of preparation and training in what the terrorists want her to say for the terror propaganda machine. The only thing you can grant from this video is that she was still alive at some point after the abduction.
Why Are We Showing This Morbid Propaganda Video Made by Palestinian Terrorists?
We are posting the video so that you can see how Palestinian terror groups continue to use terror, death and morbidity to push their propaganda to pressure Israel into a cease fire, so that the world will believe the "genocide" lie and start again sending millions of dollars in "humanitarian aid" to Gaza, which the terrorists will use to continue to attack Israelis.
The full video is below with a translation to English after.
Please be warned the video you are about to see is extremely graphic. It shows her alive and breathing and then at the end it shows uncensored images of Marciano deceased and bloodied.
(WARNING, GRAPHIC) Video
Noa Marciano, Hamas hostage video and images of her deceased (GRAPHIC)
What is She Saying in the Video?
In the extremely graphic 50 seconds video she reads from a statement written by the terrorists and says:
"My name is Noa Marciano, my Israeli identity number is 214179293, my fathers name is Avi Marciano, my mothers name is Adi Marciano, I live in Modi'in, I am 19 years old, my family ancestry is from Morocco, Poland and Ukraine. I am in Gaza, all of Gaza is being bombarded now, I am in Gaza already for 4 days. There are other hostages here. We may die from the bombardments. Please stop. The explosions are very close to us."
The next image is a picture of her, extremely graphic, dead and bloodied. Then a close up image of her scalp, showing signs of trauma, bloodied. Then another close up picture of her face, deceased.
May God avenge her blood.
May her memory be for a blessing.
Why Did the Terrorists Release the Video Now?
In the video she states that she has been in Gaza for 4 days. Meaning the video was made on the 11th of October, so why did the Palestinians release the video now? It is obvious, they released the video now claiming Israeli bombs killed Marciano, because in the last 48 hours, footage of Palestinian terrorists war crimes, using hospitals in Gaza as terrorists bases, shooting an RPG at Israeli soldiers from the staircase at the entrance of the Al Shifa hospital, using kindergartens, boy scouts grounds, buildings with civilians still residing in them, schools and more for terror rocket launching bases – has been circulated around the world and wide condemnation of their terror tactics of using Palestinian civilians as human shields has been heard around the globe. So they chose this day to release the video and lie about her death. They KILLED this hostage.
About Noa Marciano and Her Kidnapping
On October 7, Noa Marciano, a 19-year-old female soldier, was abducted from an IDF surveillance post at Kibbutz Nahal Oz. Marciano, hailing from Modi'in, was a member of the 414th Regiment's Combat Intelligence Collection Corps. Her last conversation with her mother, Adi, occurred on that morning at 7:30. During the call, she informed her mother about taking shelter due to an intrusion and abruptly ended the conversation.
Adi, who heard no alarming sounds during the call, texted her daughter thirty minutes later but received no response. Marciano had been abducted by the Palestinian Islamist attackers and taken to Gaza with 239 others, mostly civilians. In the video Noa says full the names of both her parents, a sickening show at the psychological terrorism that the terrorists want to inflict on her family.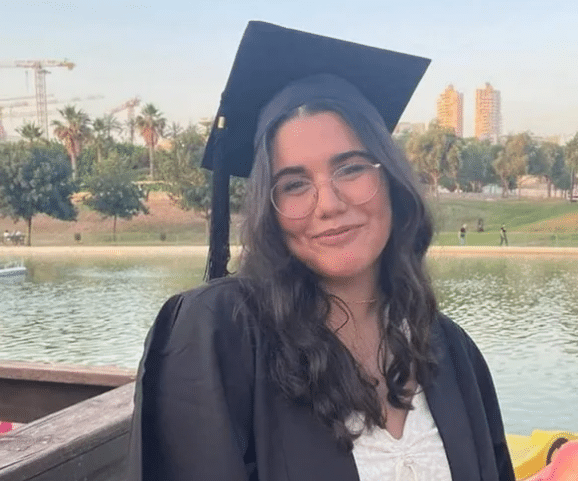 IDF Confirms Israeli Soldier's Death in Hamas Video
The Israeli Defense Forces (IDF) confirmed the passing of Noa Marciano, a 19-year-old soldier, who was previously captured by Hamas in Gaza. A video showing Marciano in captivity was released by Hamas on Monday night, over five weeks following her abduction in the attacks on Israel on October 7. The IDF stated that their confirmation of Marciano's demise was informed by intelligence reports rather than the video's content.