Talal Al Hindi Eliminated
The Safa News Agency, associated with Hamas, reported the demise of Talal Al Hindi, an al-Qassam brigades field commander, in an Israeli airstrike. The attack, which occurred in the central region of the Gaza Strip, claimed the life of Talal Al Hindi and his wife and several family members, after their residence was hit.
Hamas terrorists al-Qassam brigades register Palestinian children for "Saif Al-Quds" child terrorism camps in Rafah, in the southern Gaza Strip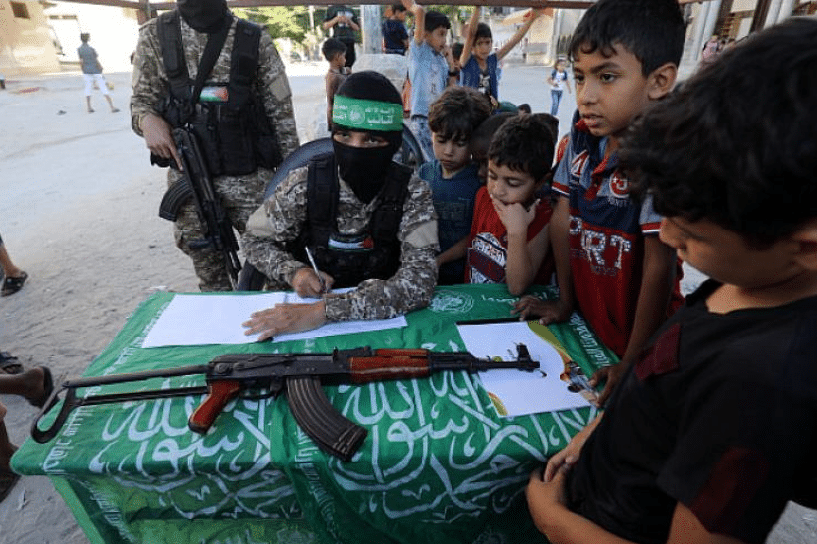 ---
Who are the Hamas al-Qassam brigades?
The al-Qassam Brigades is the military wing of Hamas, a Palestinian terrorist and political organization. Founded in 1987, during the First Intifada (Palestinian uprising) against Israeli rule, the Brigades were named after Sheikh Izz al-Din al-Qassam, an influential Islamic preacher and militant leader in the early 20th century. They are primarily based in the Gaza Strip.
The al-Qassam Brigades play a significant role in the ongoing conflict between Israel and Palestinian terror groups. They are involved in various terror activities, including rocket attacks against Israeli cities and civilians, suicide bombings, and other forms of attacks mostly against civilian targets.
The group is known for its secrecy and has a substantial arsenal of weapons, including long-range rockets and drones. They have been designated as a terrorist organization by Israel, the United States, Canada, the European Union, and other countries and international bodies due to their involvement in attacks against civilians and military personnel and their stated goal of eliminating the state of Israel.
al-Qassam Brigades in Gaza
The al-Qassam Brigades have played a prominent role in the various Gaza conflicts over the years, engaging in some intense battles with the Israeli Defense Forces (IDF). Their activities have led to significant regional and international attention and have been a pivotal aspect of the broader Israeli-Palestinian conflict.
Talal Al Hindi, now diseased, was a field commander in the terrorist groups al-Qassam brigades, brutally attacking, murdering and abducting Israeli civilians since 1987.