Raped Israeli Female Hostage Was Held at Al Shifa
On the day of the terror attack on October 7, a military vehicle can be identified in the hospital's parking area. This vehicle was stolen from a base in the vicinity of the attacks and was used by Hamas terrorists for the abduction of IDF female soldiers, as can be seen in the videos below.
Video of The Stolen Jeep Arriving at Al Shifa
Originally streamed live online by a Palestinian on the day of the attacks, the footage featured a yellow blur.
Video of the Same Stolen IDF Jeep Being Used to Transport Raped Israeli Female Hostage
The IDF military jeep, stolen by Palestinian Islamist terrorists, arrived at Al Shifa Hospital in Gaza on October 7th. The jeep's arrival in the first video drew a significant crowd, suggesting that it was the same jeep used for transporting hostages, maybe the same female hostage that can be seen in the second video bleeding from her private parts.
---
EXTREMELY GRAPHIC (WARNING)
October 7th Raw Video Footage
Credit: HamasVideo.com
---
Hundreds of Palestinian "Civilians" Took Part in the Massacres
Documented and confirmed footage by many independent sources prove that hundreds of "regular" Gazan "civilians" took part in the looting, killing, mutilating and raping of Israelis on the day of the brutal attack.
Below you can see one of the images, while still inside Israel, one of the terrorists is taking a young woman he kidnapped and around him are a dozen Gazans, who are taking part in the attack, they crossed the border fences in the hundreds, Palestinian civilians, they looted the Israeli towns, killed Israelis with knifes, shovels, anything they could use as a tool of death. One of them even beheaded a man with a shovel (we can't post the beheading video on our website as it is too graphic but you can find it on hamasvideo.com).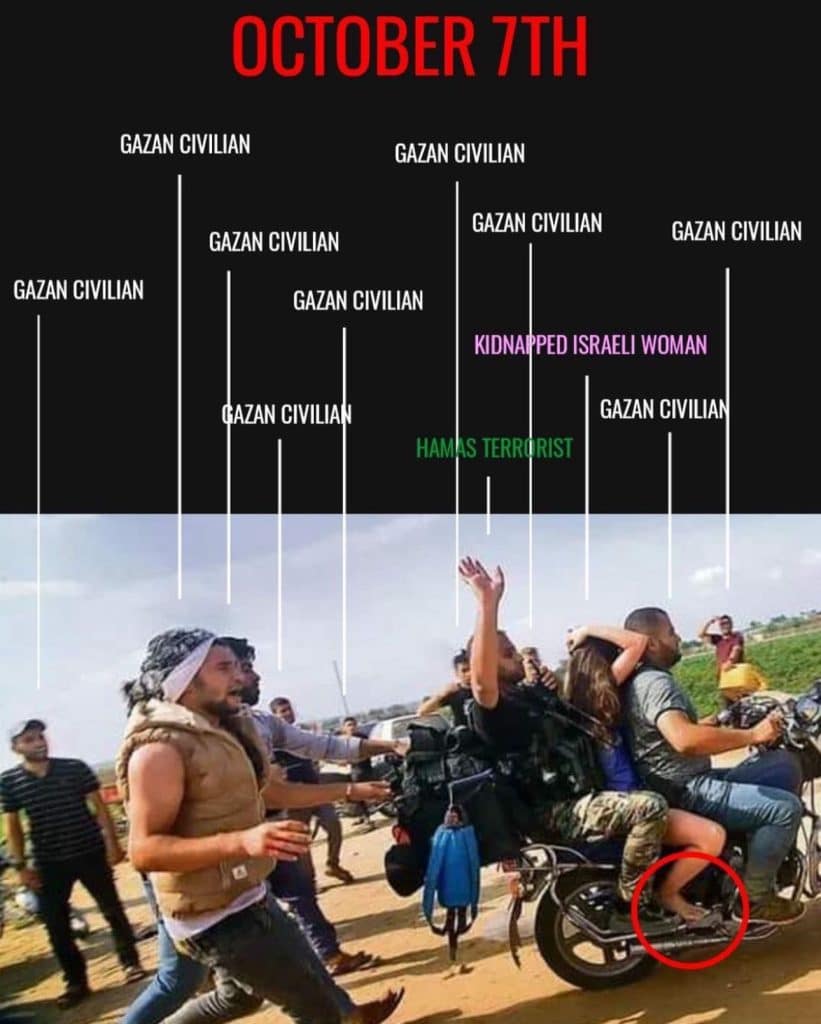 More new findings exposed by the IDF and Shin Bet prove that Al Shifa Hospital served as a terror infrastructure where Hamas terrorists abducted hostages on October 7th.
(Graphic) Video – One of the Injured Hostages Abducted From Israel on October 7th
You can clearly see the Palestinian terrorists, alongside the medical staff, with the hostage, inside of the hospital in this video.
These findings prove that the terror organization Hamas used Al Shifa Hospital on the day of the massacre itself as a terror infrastructure. These findings add to the evidence previously shown, proving that Hamas systematically and continuously uses the hospital space as infrastructure for its terrorist activities. The footage is also a crucial piece of evidence showing collusion and complicity among the hospital staff with the terrorist activities.