"We all understand the situation, and I ask everyone with me to be quiet and lower their voices. It's a horrible thing, they could kill us all. We hear the sounds of shooting approaching and the voices of terrorists in Arabic and screams."
What Happened on the 7th of October
Raz Peri, a 23-year-old cancer patient, was on his way to the Nova festival when he was caught in a firefight. He fought a terrorist with bare hands, then played dead beneath the body of a young woman who was shot by the terrorists next to the shelter. His car was stolen, and he made his way wounded through burning fields to Kibbutz Mefalsim: "What I saw there, I will never be able to forget,".
---
Watch:
>> RAW VIDEO FOOTAGE
Hamas Massacres, Southern Israel, 7th October 2023 <<
---
The Nova Music Festival Massacre
Raz, a Hodgkin's lymphoma patient from Holon, recounts how he fell into the terrorists' line of fire on his way to the Nova music festival, where Hamas terrorists massacred hundreds of celebrants two weeks before. From his hospital bed in Kaplan in Rehovot, he told of the shooting at the shelter: "I pulled a woman's body over me. She absorbed all the bullets. I told myself: I have cancer, at least let the others with me in the shelter be spared,".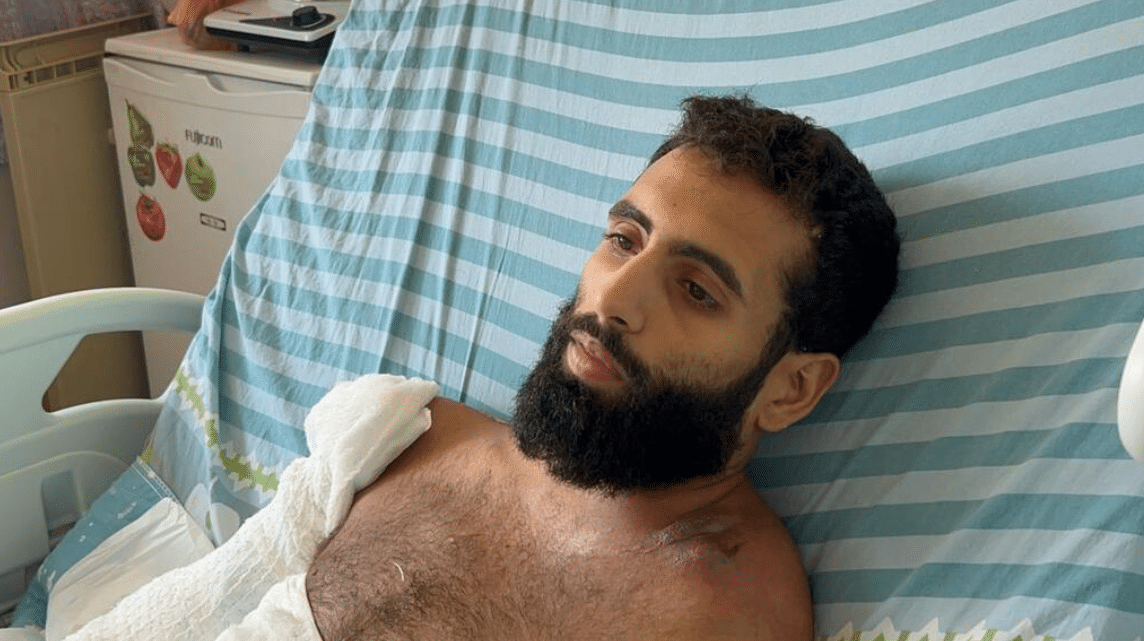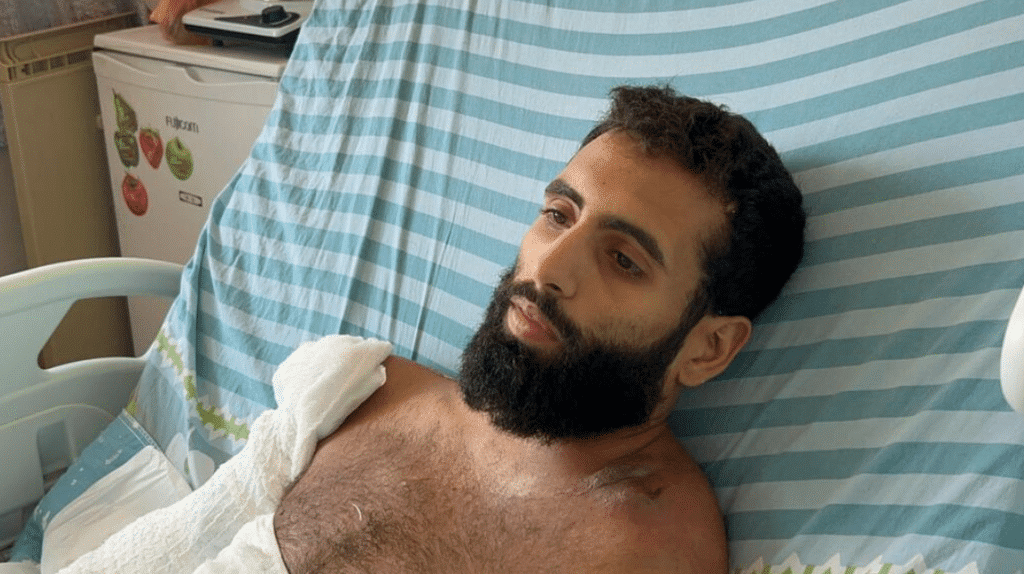 Raz went to the Nova festival to "feel alive again", but soon found himself desperately fleeing from Hamas terrorists. He tried to hide and survive in an shelter on the side of the road, with a group of four other panicked young people. But soon, they became a target for the armed terrorists, causing him to risk his life to save people he had never met until that moment.
On that dreadful Saturday – October 7, early in the morning – Raz set out to meet friends at the Nova music festival. On the way, just before reaching Kibbutz Mefalsim, a barrage of rockets began, and he took shelter in the bomb shelter with people he met: "We also met a 50-year-old man from the area, and he himself said there had never been such a situation like this one in the past. We knew something big was happening."
After 20 minutes of hiding in the shelter during the incessant rocket barrage, they began to hear shots from terrorists. Raz says: "We all understand the situation, and I ask everyone with me to be quiet and lower their voices. It's a horrible thing, they could kill us all. We hear the sounds of shooting approaching and the voices of terrorists in Arabic and screams."
I saw dozens of terrorists outside. I'm trying to fight him for the weapon and he's shouting in Arabic 'Jew, Jew'. All the terrorists are looking at us, and they start shooting in our direction. I fall back into the shelter, and the terrorist kept shooting."
Dozens of Terrorists Shouting "Jew, Jew!"
At some point, the terrorists came close and saw them: "We hear the footsteps approaching us, and I realize there's a terrorist who has seen us. I immediately told everyone to stick to the wall. I saw the Kalashnikov slowly entering, and one of the girls who was with us panicked and screamed." At this stage, Raz comes face to face with an armed terrorist with bare hands: "As soon as she screamed, the terrorist entered. I was trained for a few months, before I got sick, in the IDF Kfir Brigade, where they taught us to fight with what we have.
I had hands. I grabbed the terrorist in a stranglehold, and he folded. I hit him, and he fell to his knees and started shooting. I tried to pull the weapon away from him, and he pulled me out with the weapon." Raz realizes he is surrounded by terrorists: "I saw dozens of terrorists outside. I'm trying to fight him for the weapon and he's shouting in Arabic 'Jew, Jew'. All the terrorists are looking at us, and they start shooting in our direction. I fall back into the shelter, and the terrorist kept shooting."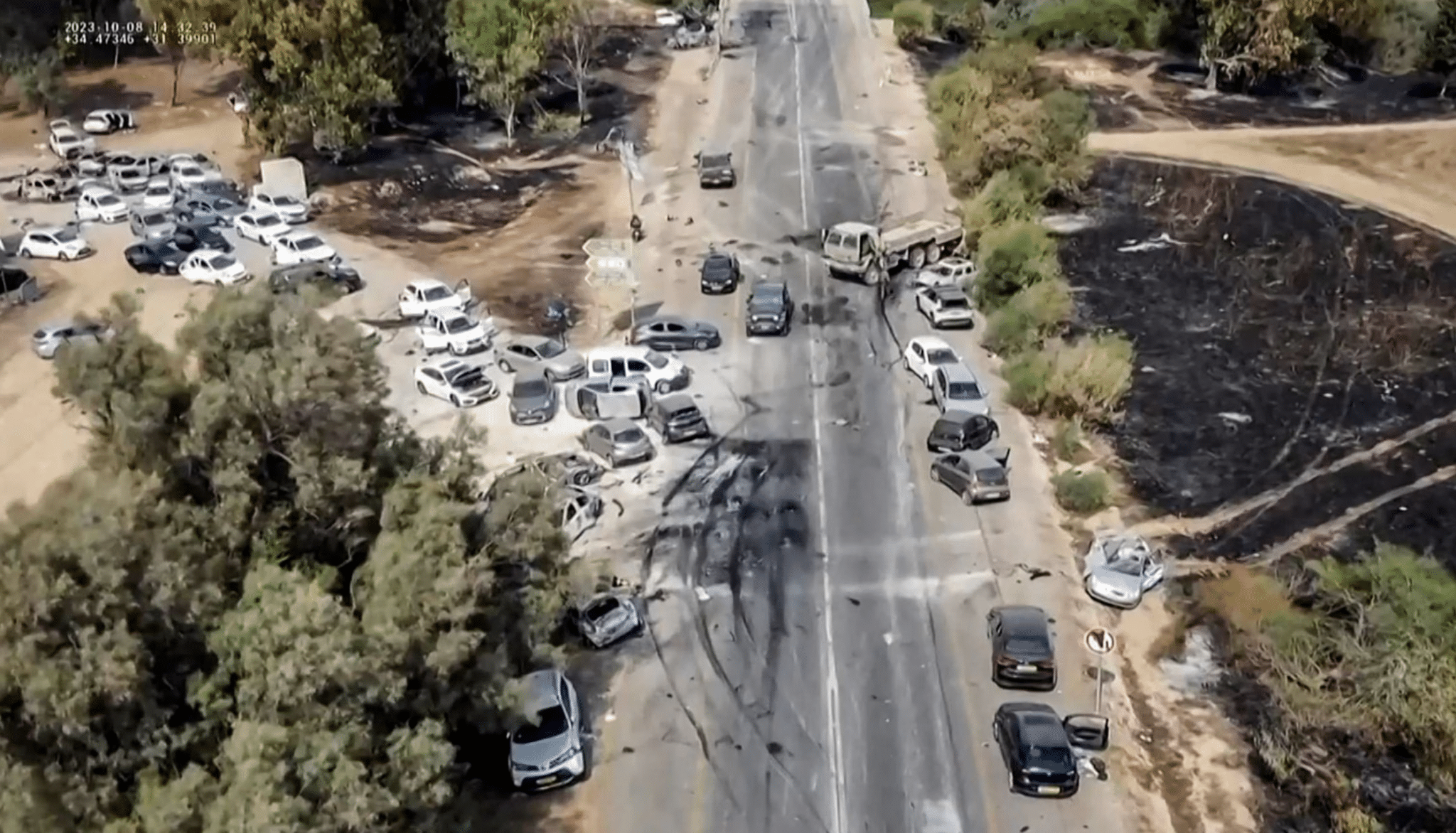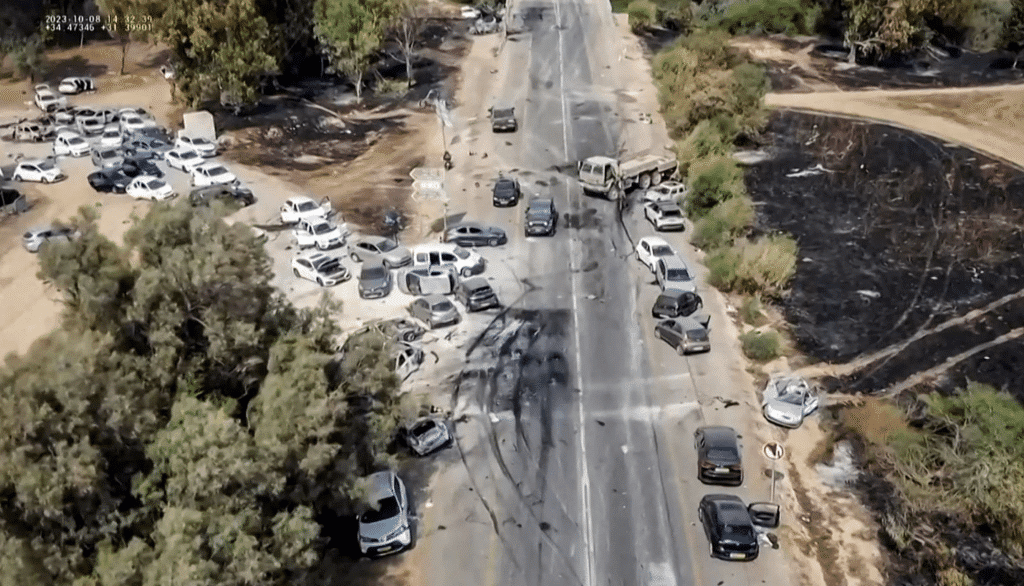 The terrorists realized where Raz was and ran towards the shelter trying to murder everyone hiding there: "All the terrorists ran towards us. Three terrorists entered, threw four grenades at us, and I'm shouting 'grenade, grenade, get down! Do not stand up!' That's how they taught me in the army, it's forbidden to stand up. I jumped on two of the people with me. We just lay on top of each other. All the grenades exploded." One of the people ran out of the shelter, and they shot him right there. His wife saw this and screamed, and then came the moment when the terrorists again heard the screams, and one of them came back and threw in more grenades."
One of the grenades is close to his belly: "I manage to grab it with my right hand and throw it out of the shelter, where it explodes. A gunfight begins outside. One of the girls who was with me – her body probably couldn't take it anymore. Her girlfriend saw this horrible sight and froze in place. I see that everyone is wounded. One of the men with me asks me to put a tourniquet on his leg, because his entire leg was torn apart. I tear my shirt, make a tourniquet, and at one point the blood stops. I try to snap the girl out of shock, but I can't, and I hear outside that the gunfight is starting to die down."
We Hid Under Dead Bodies
Raz does everything he can to help the people with him in the shelter: "I lay the two next to me, and take a body and try to cover them with it. I hear them shouting outside – 'Skoda, Skoda', and I realize they are stealing my car. One of the terrorists decided to return to the shelter and performing a kill confirmation. He starts shooting and one bullet hits me in the belly, I don't feel it at all. I hear the Skoda driving away and say to myself – I can't believe I'm breathing."
At this point, Raz realizes he has to run as far away as possible, try to summon help, but sees that all the fields are on fire: "I was with flip-flops on the way to the party, but I understood that I had no choice but to run through the fire to summon help. I had metal stuck in my toe and two bullets in my belly, but I started running towards the fire and reached Mefalsim. I prayed they wouldn't shoot me in the back. I managed to reach a building in Mefalsim, but I realized that there was no one in the building."
Kibbutz Mefalsim
"I'm knocking on doors and no one answers me. I pushed one of the doors open with a kick and lay down on the floor in that house. I called my friend on the phone and told him – I'm bleeding a lot, I have a bullet in my belly, these are my last breaths. Please look at the geo-location I'm sending you."
Suddenly, a man came out to Raz from the shelter in the same apartment he entered: "He asked me in Arabic – 'what's your name, shu ismak' (what's your name), and I answer him – 'no, I'm a Jew, I'm a Jew, my name is Raz'. He pulls me into the shelter, brings me a towel and I'm trying to stop the bleeding with one hand and with a knife in the other hand. Just waiting for the terrorist."
Bodies With Their Heads Cut Off
Another six hours passed before Raz and the man with him in the shelter were rescued from Mefalsim: "On the way out, the horrors I saw there are inconceivable. It's just an apocalypse what happened there. I saw everything – I saw bodies with their heads cut off, dead children. They took me in an armored ambulance that was also shot at on the way. I arrived at Kaplan Medical Center at 12:30 and they are taking care of me here. I have already undergone several surgeries and have a long rehabilitation ahead, but it's a miracle I'm alive."
"I'm a cancer patient. I went to the festival to listen to music for my soul. What I saw there with my own eyes, I will never be able to forget," Raz concluded. "Cancer has drained me. I know what it means to fight for your life."